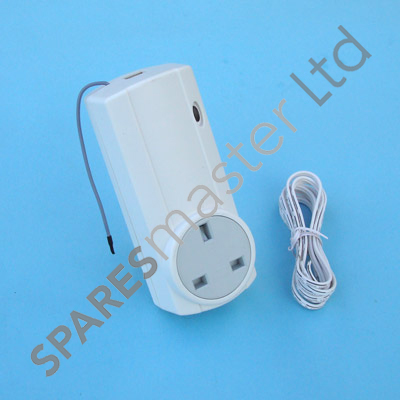 Marantec Digital 371 Socket Receiver
Impulse Type  socket receiver
868MHz
Coming Soon!
Description
Features
Additional Technical Information
Description
Marantec Digital 371 868MHz Socket receiver (Impulse Type)
An 868MHz Socket Receiver that provides impulse switching of any garage door opener fitted with a pushbutton or keyswitch that has obsolete radio controls or controls in need of upgrade.
The unit, which contains a Marantec 868MHz radio receiver, simply plugs into a conveniently located 13amp socket and the socket on the unit remains available for use, thus not causing you to lose the use of the original 13amp socket.
The unit has a prewired 1.5 metre two wire lead which is simply connected to the pushbutton/keyswitch terminals on the operator`s motor head or alternatively. it can be wired directly into the back of the pushbutton or keyswitch if more convenient.
Please ensure that you also purchase Marantec 868MHz remote handsets of your choice listed elsewhere in this section to complete the kit.
Application
'Impulse'
For easily retrofitting operators from other manufacturers to Marantec hand transmitters and/or to update the radio frequencies
Connecting cable for external switch
Package
Impulse socket receiver
2-core cable (1.500 mm)
Connecting cable for external switch. 2 core
See other listing in this section for a similar unit that provides remote switching of lamps and appliances.
Technical details/specifications
Measurements (WxHxD) – 50 x 120 x 75 mm
Weight - 0.15kg
Nominal voltage – 230/250 V AC. 50/60 Hz
Power consumption – Approx. 30 mA
Protection category – IP 20
Range of temperature - 10°C to +40°C
Cabling – conventional to the operator