Apex
Apex garage doors were manufactured up until 1998. Where spares are no longer available it may still be possible to supply compatible parts such as locking bars and spring adjuster bolts and if the door panel is still serviceable but the gear worn out we can supply a complete new set of gears. The stock listing below covers both the old Bolton, Apex and the later Cardale Apex ranges.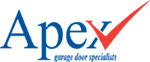 The range included; the Bolton Filuma, a sectional overhead door which was made in both a translucent GRP material and also from stipple finish aluminium; The Bolton Berry a retractable geared up and over door and the Bolton Georgian a nine panel georgian style door also on retractable gear.
During the late 1980's the name Bolton was dropped in favour of the Apex name and the products were renamed accordingly; Apex Filuma, Apex Berry and Apex Georgian. A canopy door gear was introduced using modern overhead torsion spring gear to complement the retractable door range and appeal to market demand.
In 1998 the company was taken over by the Cardale Group and the range of products massively changed and expanded.
The supply of spares for the original Bolton (Apex) doors is now limited to a small range of service items comprising Lock Handles, Filuma Cables, Cones and Cables and some roller spindles. Parts such as springs, and lifting gear related items are no longer available. However, spare parts for the later Cardale Apex doors are readily available as they are the same as those used on Cardale's range of doors.