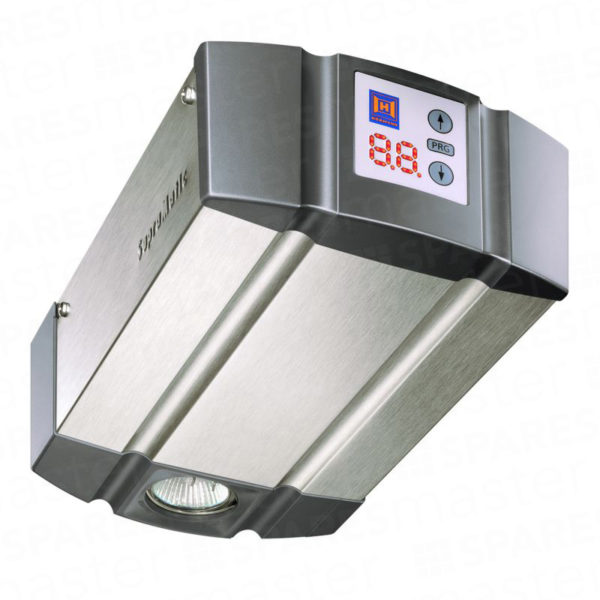 Hormann Supramatic H Head Only
High-speed opening –  – Up to 50 % faster opening speed
Garage door operator for domestic use
Convenient querying of the door position
Easy-to-use programming
High security
Available
Description
Additional Technical Information
Description
Garage Door Operator – SupraMatic H – (Head Only)
Safe – When the garage door is closed, the door security kit automatically engages in the guide rail stop, immediately locking and securing it against forced opening.
Reliable – The reliable automatic safety cut-out securely stops the door if it encounters an obstacle.
Super-fast – An opening speed up to 50 % faster means more safety and less stress on high-traffic streets.
SupraMatic H / HD:  Ideal for collective and underground garages.
This model is supplied without remote controls – please order separately, see our Hormann Handsets
Garage door operator for domestic use -  not suitable for commercial use!
No. of parking operations:
Max 150 door cycles (open/close) per day or 75 parking spaces
Operator details:
24 V DC gear drive
Mains voltage 230 – 240 V AC, 0.2 kW
Push and pull force 1000 N, peak force 1200 N
Opening speed 22 cm/s
Electronic control unit:
Microprocessor control
Automatic adjustment of safety cut-out and travel limits
Adjustable soft start and soft stop
7-segment display
Operator light and second opening height adjustable
Automatic timer adjustable
Hold-open time 10 – 180 sec after activation
Impulse control
Operator boom FS 60 (at additional cost):
Self-supporting steel boom with polyurethane toothed belt and steel tooth
Plastic slide carriage and guide pulley with ball-bearing
1-piece, completely pre-assembled
Standard equipment:
Quick release operated from the inside, connecting cable with CEE plug
Second suspension for boom FS 60 and FS 6
Integral garage light adjustable with factory set 2-minute light
Radio operated
Door security kit as safety device
Universal installation bracket for up-and-over doors and sectional doors
Housing:
Temperature range:
Note: Installation of photocell is required if automatic timer is activated.