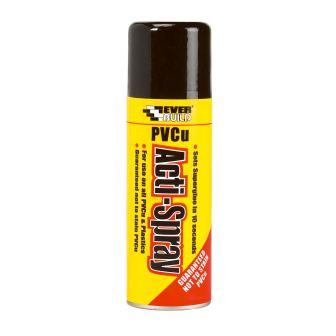 Everbuild PVCu Acti-Spray
For use with Everbuild Industrial Superglue GP and HV
For setting superglue in 10 seconds
Available
Description
Additional Information
Description
Everbuild PVCu Acti-Spray
PVCu Acti-spray is an aerosol applied activator for use with Everbuild Industrial Superglue GP and HV, setting superglue in 10 seconds. Guaranteed not to stain PVCu. Acti-spray is ideal for use on all PVCu and plastics.
Product Description
EVERBUILD ACTI-PEN is a revolutionary new way of applying super glue activator. With its precision applicator ACTI-PEN will cover approximately the same as 3 x 200ml tins of standard activator spray. Due to the high activator content ACTI-PEN will halve the setting time of conventional aerosol activated superglue.         
Benefits
Works on all common building surfaces.
Suitable for use with all cyanoacrylate superglues.
Precision application.
 Limitations
Always replace cap after use.
Any excess material outside the glue line must be removed as this can cause discoloration.
Any discoloration can be removed using contact adhesive thinner and cleaner.
 Application
Remove cap and apply activator to one of the surfaces to be bonded. Apply cyanoacrylate adhesive to the other surface (e.g. Everbuild MitreFast Adhesive). Bring the parts together ensuring the joint is accurate. Joint sets hard in approximately 5 seconds. Always replace cap after use to prevent the pen drying out.