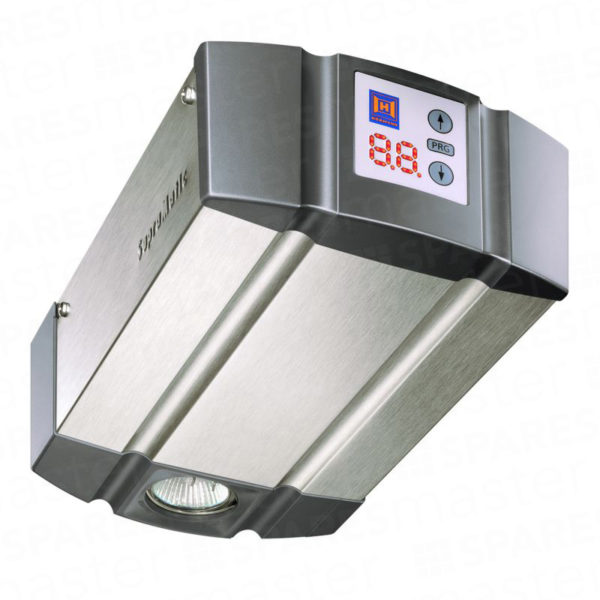 Hormann Supramatic P BiSecur Series 3 Head Only
Faster door opening – Up to 50 % faster opening speed
BiSecur – Series 3
Convenient querying of the door position
Halogen lighting can be switched on / off separately
Easy-to-use programming
High security
Available
Description
Features
Additional Technical Information
Description
Garage Door Operator – SupraMatic P BiSecur – Series 3 (Head Only)
The latest generation of Hormann garage door operators now features the new Hormann BiSecur radio system.
The SupraMatic has many added functions, such as being able to switch the lighting on and off with your hand transmitter, and the convenient option of an additional opening height to ventilate your garage. An operator cover made of brushed aluminium also provides the SupraMatic with a very elegant appearance.
SupraMatic P inc photocell
Pull and push force: 750 N
Peak force: 1000 N
Opening speed: max. 22 cm/s
Door width: up to 6000 mm (max. 15 m² door surface)
For heavy timber doors and doors with wicket doors
Safe – When the garage door is closed, the door security kit automatically engages in the guide rail stop, immediately locking and securing it against forced opening.
Reliable – The reliable automatic safety cut-out securely stops the door if it encounters an obstacle.
Super-fast – An opening speed up to 50 % faster means more safety and less stress on high-traffic streets.
Garage door operator for domestic use - not suitable for commercial use!
No. of parking operations:
Max 50 door cycles (open/close) per day or 25 parking operations
Operator details:
24 V DC gear drive
Mains voltage 230 – 240 V AC, 0.2 kW
Push and pull force 750 N, peak force 1.000 N
Opening speed 22 cm/s
Electronic control unit:
Microprocessor control
Automatic adjustment of safety cut-out and travel limits
Adjustable soft start and soft stop
7-segment display
Operator light and second opening height adjustable
Automatic timer adjustable
Hold-open time 10 – 180 sec after activation
Impulse control
Operator boom FS 10 (at additional cost):
Self-supporting steel boom with polyester/polyamide toothed belt
Plastic slide carriage and automatic belt tensioner
1-piece, completely pre-assembled
Operator boom FS 2 (at additional cost): As boom FS 10 but 2 piece, pre-assembled
Standard equipment:
With 5-button HS 5 BS and 2-button HSE 2 BS hand transmitters
Operator lighting and second opening height
Each hand transmitter factory-coded individually from over 1 trillion combinations
Quick release operated from the inside connecting cable with CEE plug
Integral garage light with factory set 2-minute light
Radio operated
Door security kit as safety device
One-way photocell EL 101 as an additional safety device
Universal installation bracket for up-and-over doors and sectional doors
Housing:
Temperature range:
Note: One way photocell EL 101 as standard-High-speed opening.  Installation of photocell is required if automatic timer is activated